The 2022 Subaru Love Promise Community Commitment Award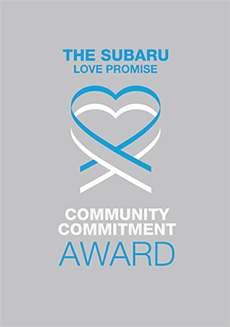 We've been nationally recognized for our dedication to our community and the Subaru Love Promise.
We're honored to receive the 2022 Subaru Love Promise Community Commitment Award. This award nationally recognizes Subaru retailers who are making the world a better place while demonstrating an outstanding commitment to supporting passions and causes in local communities. These efforts are focused in important areas such as the environment, community, health, education, and pets.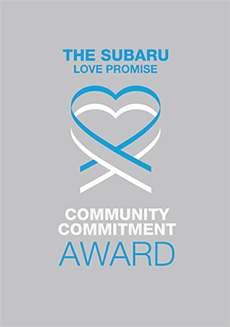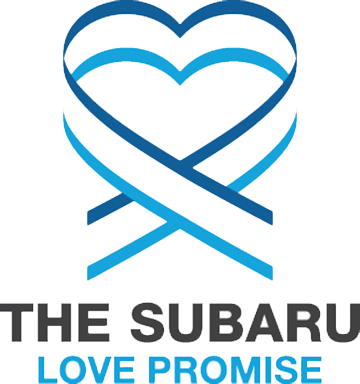 What is the Subaru Love Promise?
Subaru and our retailers believe in making the world a better place and the Subaru Love Promise is our vision of respecting all people. This is our commitment to show love and respect to our customers and to work to make a positive impact in the world.
How is Farrish Subaru dedicated locally to the Love Promise?
Our Love Promise can be seen in various partnerships with local charities and non-profits. We're grateful for the opportunity, not only to be a part of our community, but to serve it as well.
Love Promise Stories from Farrish Subaru
Subaru and Farrish Subaru believe in making a positive impact on the communities in which we live and work. We uphold that belief through our Love Promise Community Commitment. Every month, we select inspiring stories from customers and partners from around our area who strive to support our collective commitment and feature them here
Healing Loss - Kristen L
I adopted Kent after losing a cat that was very important to me suddenly to cancer. I went online and search of the perfect cat but never really thought Momo could be replaced. Momo was really special companion cat for me, a "lap kitty" in the only one I had ever known or had. After Hours and weeks and months of searching for the perfect cat, I drove 2 hours to be introduced to Kent. He was called lap kitty when there are so few of them out there. I know right one meeting him when he crawled into my lap that he was the one for me. And right after taking him home, I learned that this cat was the special one who could heal the hole in my heart. We've been inseparable ever since. Thank you Rescue Angels of Southern Maryland for giving me Kent and thank Ourisman Subaru of Waldorf for choosing to donate to this wonderful rescue!
---
Farrish Subaru Loves Pets! - Kim R
Homeless Animals Rescue Team (HART) was honored to have a special pet adoption event for the second year in a row at Farrish Subaru! On October 24, 2021, the showroom was opened up to HART's adoptable dogs and cats for another opportunity to meet friends and potential adopters among the fantastic customers and employees of Farrish. HART appreciates the support for our mission to rescue homeless dogs and cats. The team at Farrish go above and beyond!
---
Spring Cleaning - Brittany D
As the weather starts to warm up everyone is wanting to enjoy the outdoors more and more while social distancing. Our team at Farrish Subaru decided to dedicate our free time to doing a trail cleanup in hopes to leave a clean pathway for our local neighbors to enjoy the sights and the outdoors. Nottoway park is a beautiful 84-acre park located in Vienna, VA. Visitors can make a day out of taking on the fitness trail (complete with training equipment along the path), playing tennis, basketball, volleyball, having a picnic or using their wooded nature path. During the summer months they also host a series of free public concerts weekly. This park is a great place to visit or hangout for the day with family! We're hoping to be able to assist with these trail cleanups regularly at this park and others to keep our local parks beautiful and show our support for the great outdoors.
---
Feeding America - Kayla D
In collaboration with the Capital Area food bank, we are promoting their efforts to help solve hunger. This food bank is located in the DC metro area and accepts donations and volunteer work for 3 different areas. Our goal is to spread awareness and help pay it forward to our neighboring communities. The Capital Area food bank sources and distributes over 45 million meals a year to people in D.C. Maryland, and Virginia. Way to go! We strive to assist them with making a bigger impact.
---
Commending Brittany Dibrango, Delivery Specialist - M B
Within a few weeks of purchasing my Legacy on 10/14/18, I first met Brittany for an extended session in which she helped me to understand the finer points of my new car- it's navigation system, radio station preferences, Apple Car play, and the electronic safety features that make my car a pleasure to drive. Brittany was welcoming and patient and explained information carefully. Her knowledge and enthusiasm were obvious. Recently in January 2021 due to an update glitch, a new navigation system needed to be ordered and re-installed in my Legacy. When I picked up my car 2 weeks later Brittany, observing all Covid protocols, met with me to help re-establish the special features that I had come to rely upon and enjoy. A month later in late February, 2021 Brittany met with me again to "tweak" some minor issues that were not clearly explained in the manual. She also made sure I had an easy way to navigate home from a less familiar or new location. Brittany is an expert at explaining the electronic features in direct relatable terms. She is patient and thorough and sensitive to the needs of an older driver. Every visit ends with the comment, spoken sincerely, "Call me if you have any other questions!" You are extremely fortunate to have Brittany Dibrango on your staff. She is an asset to your company, your dealership, and to all who have the good fortune to meet her.
---
Subaru Share the Love Event - Kayla D
Farrish Subaru in partnership with our customers, are helping donate to many great charities during the Share the Love Event that runs from November 19th through January 4th. The available charities this year include: Inova Schar Cancer Institute (our local community charity), ASPCA, Make A Wish, Meals on Wheels and the National Park Foundation. Farrish Subaru proudly supports the INOVA Schar Cancer Institute and will be donating a minimum of $50 to Inova for each vehicle sold or leased during the event. In addition to our donations, Subaru will be donating $250 to a charity selected by our customers when they purchase or lease a new vehicle during this event. This is our favorite event of the year, and sharing the love is what Subaru is all about!
---
Subaru Loves to Care - Kayla D
This year Farrish Subaru partnered with Embry Rucker Community Shelter to donate blankets in recognition of National Homeless Youth Awareness Month. Subaru and its retailers donated a total of 50,000 blankets to local homeless shelters across the country. Embry Rucker Community Shelter in Reston VA is a fantastic facility with dedicated members and volunteers working year round to assist people in our community and help them to get out of difficult situations. They offer many different services such as shelter from the extreme heat and cold, academic tutoring for children, onsite meals and medical assistance. We are so happy to know that there is such a wonderful place in our area that people can go to in a time of need. We hope these Subaru blankets will help bring some comfort and joy to everyone there this holiday season.
---
A Special Day for HART's Dogs! - Kim R
Homeless Animals Rescue Team (HART) had the honor to hold a special adoption event at Farrish Subaru on October 18, 2020! The team at Farrish were incredibly welcoming to our volunteers, and to the dogs, puppies, and kittens that we brought in to show potential adopters. It was a great opportunity for us to spread the word about the work we do at HART. The afternoon was spent meeting so many great people and introducing some of our adoptable animals to them. We thank the Farrish Team and hope to be able to hold another event there in 2021!
---
Subaru Loves Learning - Kayla D
In October of this year Farrish Subaru had the pleasure to announce Daniels Run Elementary School in Fairfax, VA as the recipient of books for their students during the Subaru Loves Learning Campaign. The students received books geared toward science. The donation event was a great success and we are happy to know that the books are available to the minds of young readers. This Elementary School is unique because it is an Eco-School that has its own Eco-Code that encourages a green world. This school is well deserving of this donation because of their diverse curriculum and attitude about learning. Congratulations and Happy Learning!
---
Adding comfort to a beautiful space - Jessica A
The Schar Cancer Center at Invoa hospital is brand new and STUNNING. I brought a very new member of our team (it was just her 2nd day) along with me and she exclaimed "this is a hospital!!?".As we waited in the lobby for the Farrish representative to arrive we talked to the hospital leads about the great resource this new cancer center is to patients and caregivers. Rather than having to go to many different facilities for various appointments, patients have everything they need right at their fingertips. When Kevin arrived from Farrish, we took a quick photo with all of the blankets and art kits and then had the pleasure of getting a tour of the facility from our hospital lead, Allison. The natural light, tree-top views, and beautiful art, made the Center feel less like a treatment center and more like a spa. Kevin shared a similar sentiment and Allison remarked "and your blankets only add to the feeling we are trying to cultivate for our patients".It is so rewarding to get to facilitate a partnership that not only gives patients physical comfort, but also emotional.
---